You are invited to join Reimagine! and The Center for Political Education for a panel discussion reflecting on 20th anniversary of the shutdown of the World World Trade Organization (WTO) conference in Seattle and draw lessons for our movements today.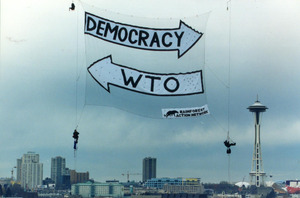 Click Here to RSVP

Wednesday, December 4
5:30-8:30pm
Happy Hour from 5:30 to 6pm
The Greenlining Institute
360 14th St., Oakland, CA 94612

Click here to share Facebook event
On November 30, 1999, more than 40,000 activists spanning organized labor, climate justice, migrant justice, indigenous organizing, the peace movement, and the global justice movement, joined forces to disrupt the trade negotiations scheduled to take place at the WTO conference in Seattle. Inspired by mass mobilizations across Asia, Africa, and Latin America against neoliberal policies developed by the WTO and similar financial institutions, the takeover of downtown Seattle re-energized the fight against neoliberalism and strengthened international alliances.
Twenty years later, in the context of an intensified neoliberal offensive by the same institutions and revived resistance against them in countries such as Ecuador, Chile, Lebanon, and Haiti, this panel discussion will help us analyze the events and organizing that led up to Seattle, take stock of the movements and alliances that grew out of that mobilization, and draw lessons from the past two decades that will set our movements up for more decisive wins.
Confirmed speakers include:
Colin Rajah
, International Coordinator of the Civil Society Action Committee
Sharon Lungo
, Former Executive Director of the Ruckus Society
Bill Fletcher Jr.
, Former president of TransAfrica Forum
Endorsing organizations:
Catalyst Project
and
Bay Resistance
Onward!
Margi Clarke
Contributing Editor
Reimagine!